Turtle Times in and of itself and its ownership and staff are
NOT
affiliated with the below website or information pertained herein, however many have asked for help posting multiple pictures and we would very much like to help them. Below we talk about Photobucket.com it is a free picture hosting site that allows you easier access of sharing multiple pictures from your PC on the forum. Here is how it works: (PLEASE READ
EVERYTHING
BEFORE TRYING!)
Go to
http://photobucket.com/
Establish your own free account. Make one album or one album and sub albums or many sub albums. Understand if you make one album in time I believe it is 10 pages total is number of images you can add so sometimes if you chose to have sub albums you can add more. Also this is a free service but donations there are WELCOMED if you read their site text and it is worth it to do so.
Now once you've made your album name you will have a login and password there make sure they are both something you can remember easily.
Now its time to upload pictures from your PC first click the album or sub album you want the pictures to upload into. Now then you will see to the right hand side
"Upload Images & Videos Choose an image (or a video) Choose a few images Choose a whole bunch of images"
and the "BROWSE" button now if you want to add just one picture click browse and upload the image(s) you want in your album
however
if you want to upload more than one image beneath the
BROWSE
button you'll see
"Add more images (or upload from a web url)"
so you'd click that then manually go and hit browse and add in a picture from your PC in that box then beneath it upload the next hitting browse selecting an image from a file on your PC and on and on until all the images you wish to add are there. Now you won't see the pictures
yet
as you're just uploading them so far. Once you are done adding images through
BROWSE
to your Photobucket album of your choice you then (see the
BUT WAIT
section below first!!) click
UPLOAD
and wait and wait and wait because yes it takes time to upload the images so be patient.
BUT WAIT
This just in...they have a new feature now that allows you to chose the uploading size options, which is located just below the BROWSE to upload images and videos option. So click that also before or after your images have been selected from a file on your PC through browse here are the options once you click that the box drops down to offer these sizes (you'll see this on your screen):
Uploading Options
Max Image Size Thumbnail (160 x 120)
Max Image Size
Avatar ( 100 x 75 ) 19" Screen ( 1280 x 960 )
Thumbnail ( 160 x 120 ) 21" Screen ( 1600 x 1200 )
Website, Email ( 320 x 240 ) 22" Screen ( 2048 x 1536 )
Message Board ( 640 x 480 ) 23" Screen ( 2240 x 1680 )
15" Screen ( 800 x 600 ) 1 Megabyte File Size
17" Screen ( 1024 x 768 ) 2 Megabyte File Size
Need the really big sizes? Go Pro!
The larger you go the better if you reload them at message board size
or larger
(can be edited later in Photobucket) then they WILL display that is IF you have them saved as large images above thumbnail size on a file in your own PC and that goes for all us turtle picture fanatics!
NEXT
Once you've selected the size you want your images to be uploaded at, used the browse and upload feature to upload pictures from your PC file to your Photobucket album they appear side by side in the order you uploaded them and then and....
ABOVE each picture you will see this:
move | edit | share | delete
In the center you will see:
YOUR PICTURE
BENEATH your picture you will see this:
URL Link
HTML Tag
IMG Code
Again it will look like this:
move | edit | share | delete
(your uploaded picture would show here)
URL Link
HTML Tag
IMG Code
Example with image (thank you Texconrad):
move | edit | share | delete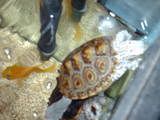 URL Link
HTML Tag
IMG Code
Now remember the picture example above was uploaded in thumbnail size
but
when you first add all pictures from your file(s) on your PC to your Photobucket album account they will appear small. Now to know exactly what size they uploaded at and to be sure
click on the actual picture
one at a time
and up it comes in the size it uploaded too. Now if the photo disproportions your screen or appears too large taking up 3/4 to the whole screen then you need to return to your album and above your picture in question chose the EDIT button above it (see example above to note where the EDIT button is) up it comes again and chose "resize" it will appear as an option above your picture at full upload size and give you choice chose again "message board size." IF you have uploaded it very large of course, now that won't work if you've inadvertently uploaded it smaller then message board size such as thumbnail size obviously.
FINALLY
Once you are ready to post your picture to the forum in your post you need to copy the IMG CODE just beneath your picture(s) doing so one at a time and you do this by right clicking your mouse and chose SELECT ALL and it highlights it (the IMG CODE under your photo) and then right click your mouse again and chose COPY now come on TT find the post place you want your picture to appear and right inside your post right click your mouse again and chose PASTE. To be sure this worked for you after also filling words in your post or topic title and to be sure picture you wish to share is of size it should be chose the PREVIEW POST option and see what it'll look like if everything appears right it'll post that same way then chose POST NEW TOPIC or (POST) REPLY.
If you have any questions, need any further assistance, if it isn't working for you, you need help, or you wish to practice your picture posting in this thread please do. It sounds incredibly hard and/or very taxing but I assure you once you get the hang of it is quite easy and you'll so enjoy the feature it offers you to post your wonderful pictures. That said, come on lets see those awesome pictures folks!