So here's where we left off.. Trying to put a lid on it, literally.
We (Me and my dad) managed to find some suitable meterial to drape over the pvc pipes.
It seemed to work out ok =)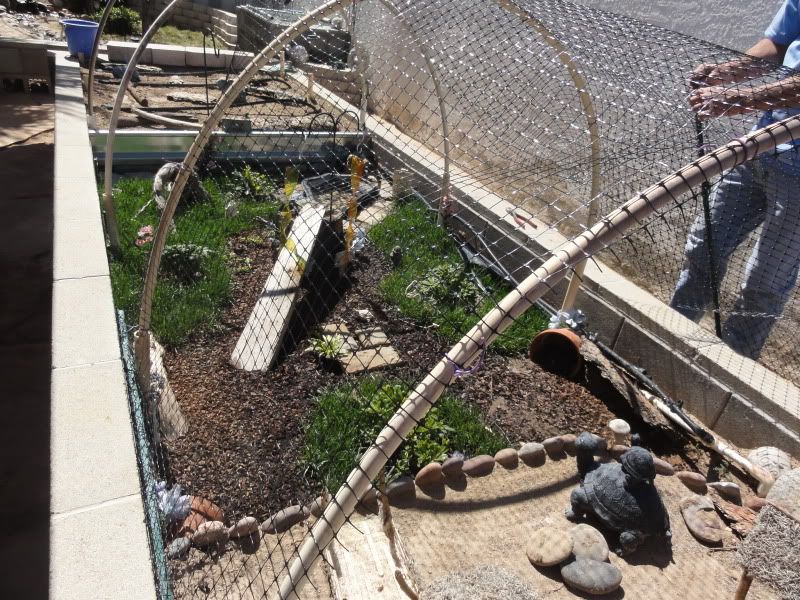 We're using our original idea of of tucking the fencing- attached to rods, behind the pvc pipe as a way of locking the door, and as double security I'm using a lot of wire ties to ensure nothing ever gets in, or out!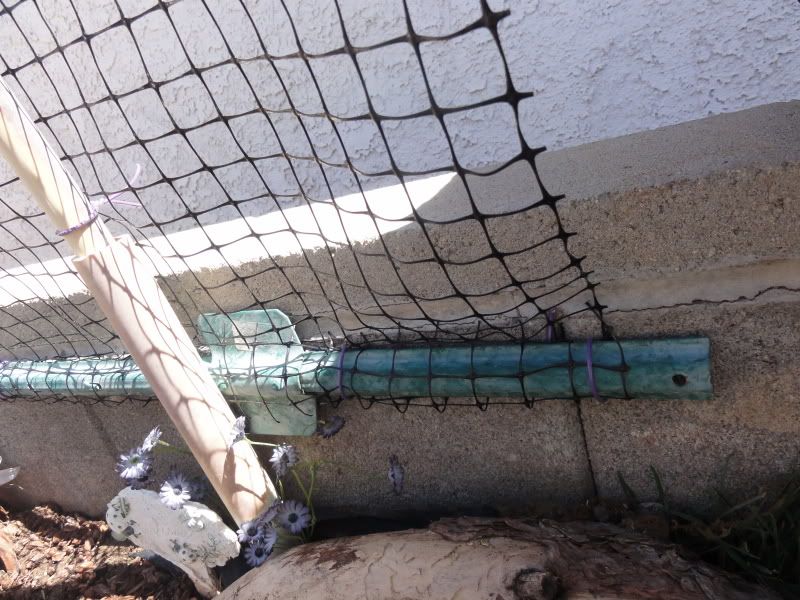 It eventually became very difficult for me, so my brother alongside my dad worked together to finish it without me, and with that the protective netting was finally created! Yes!
Now, it's finished.. omg! putting the fencing up took 2 days but it's very secure and functional. Here's my boyfriend demonstrating how to open it (there are 4 doors in total). You simply lay the rod ontop of the whole thing so I can easily get in and do what I need to do inside the habitat.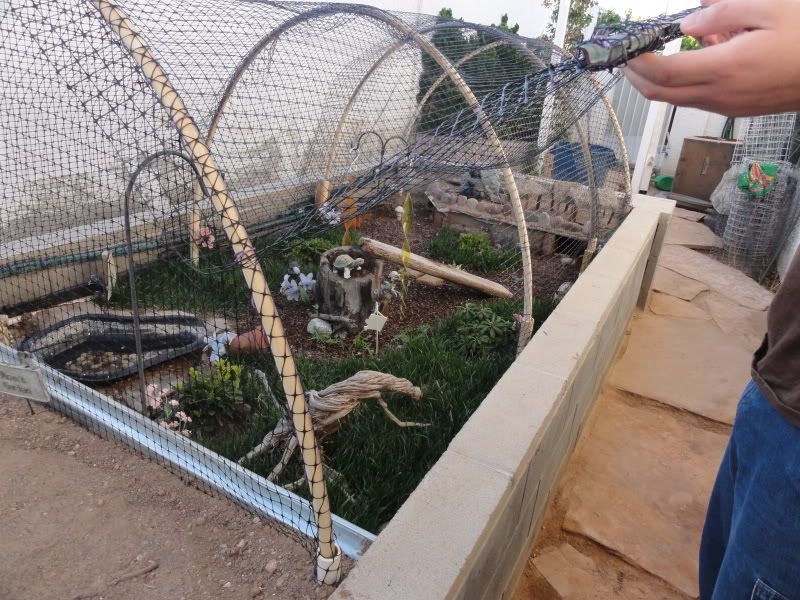 View from south side, outside the fencing.
And the north side.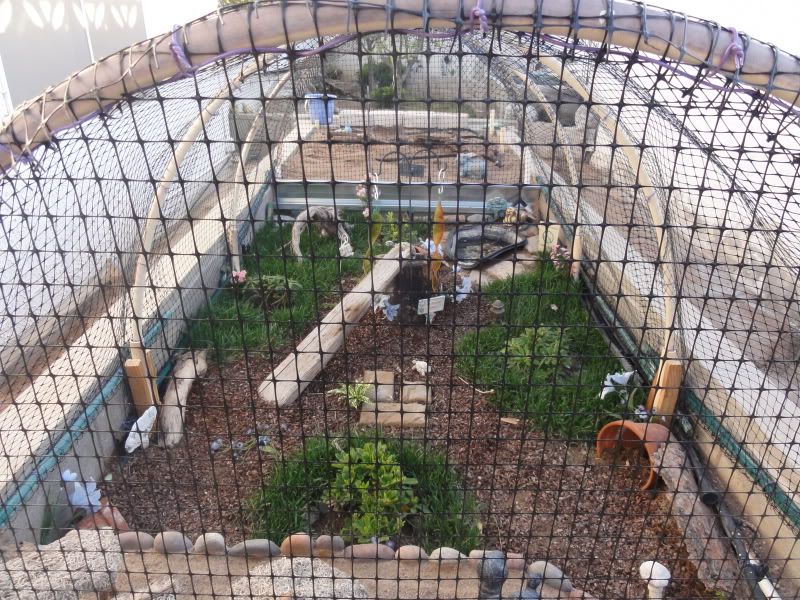 The last thing I did was finish up the pond, I decided (and tested) that by just putting rocks inside and keeping the water at a certain level that the turtles can get out fairly well once they figure out which parts to exit at.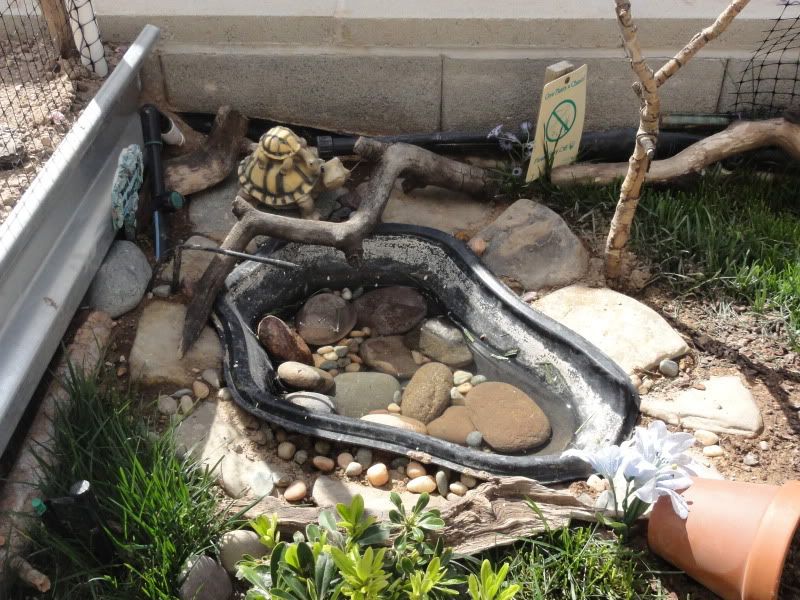 Guess what time it is! Time to put these 6 turtles into their new home! =) They are all different sizes but I put them together in a storage ben and they all got along ok (e.i. ignoring each other). By the way, it's a good idea to make sure that turtles are at least 2 inches in shell length before putting them outside!
I'm surprised they sat still long enough to give me a chance to position them like this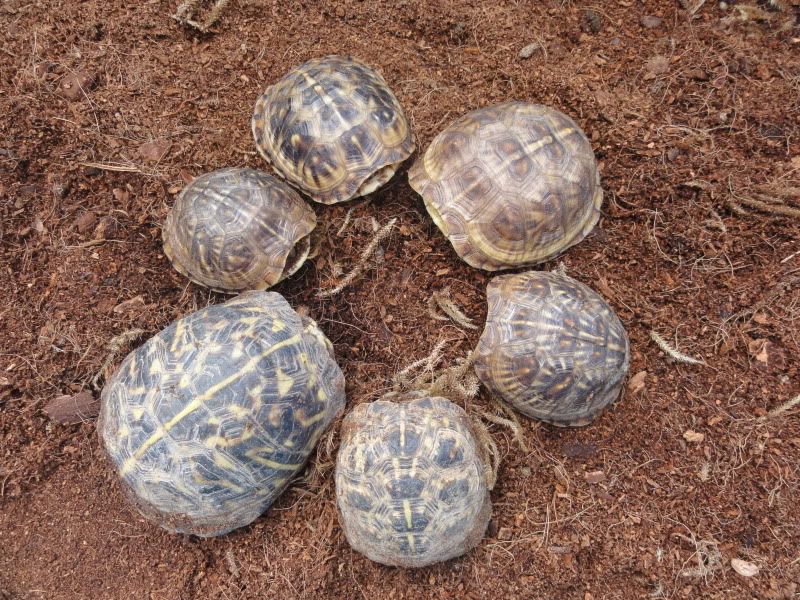 Here we go, all on grass for the first time!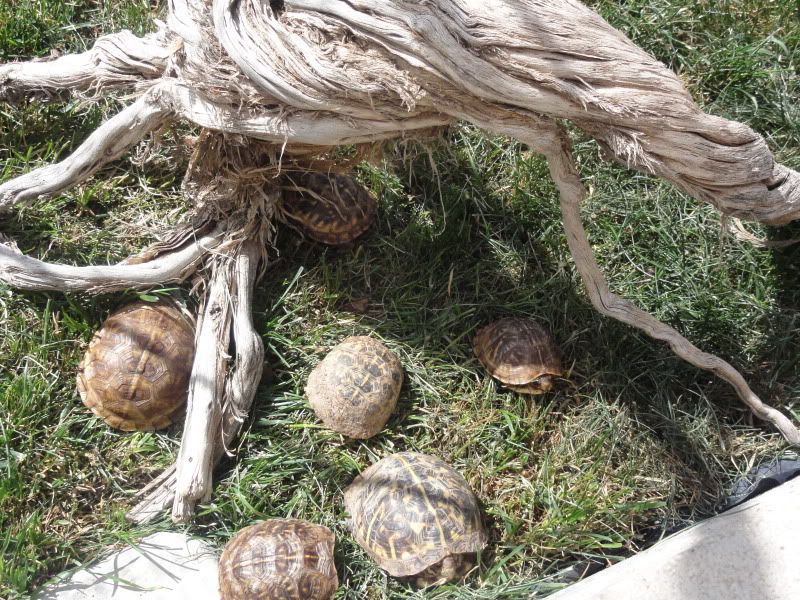 Dandi found his/her spot to hang out for the day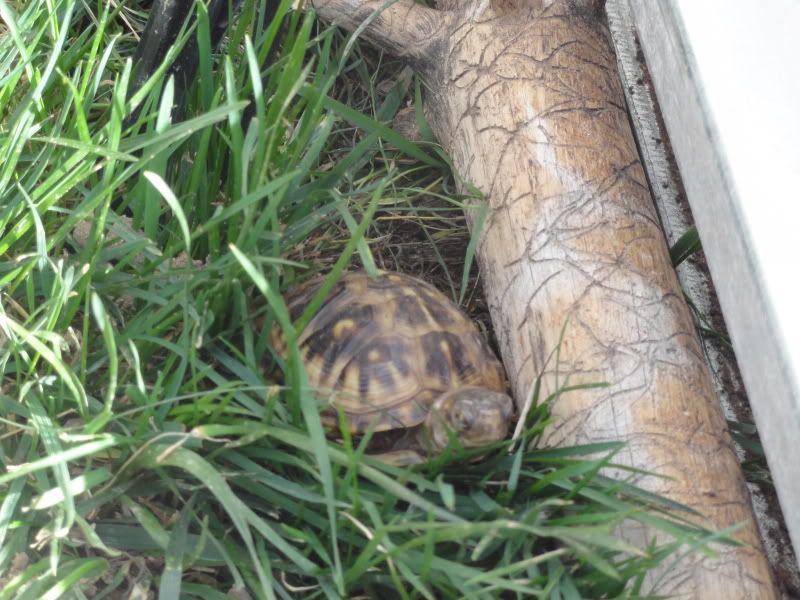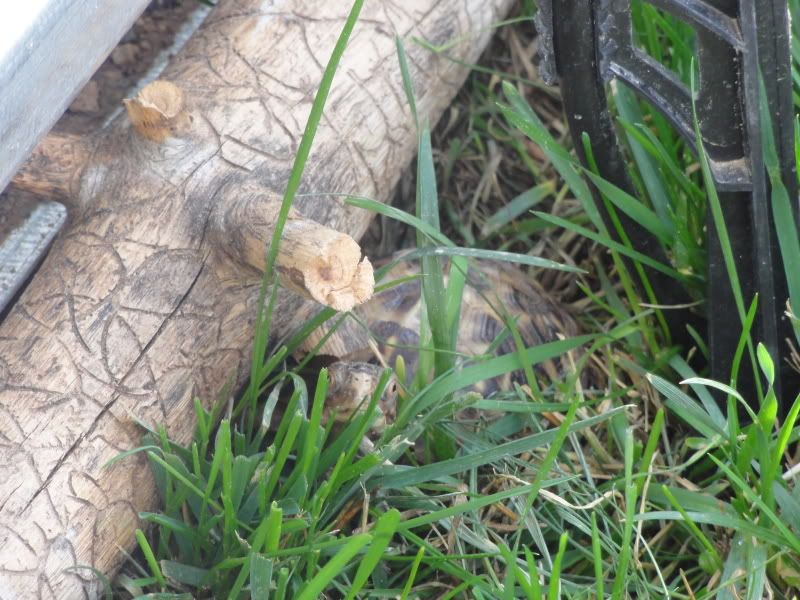 Tumble's still alittle 'shell-shocked' from the sensation of grass I think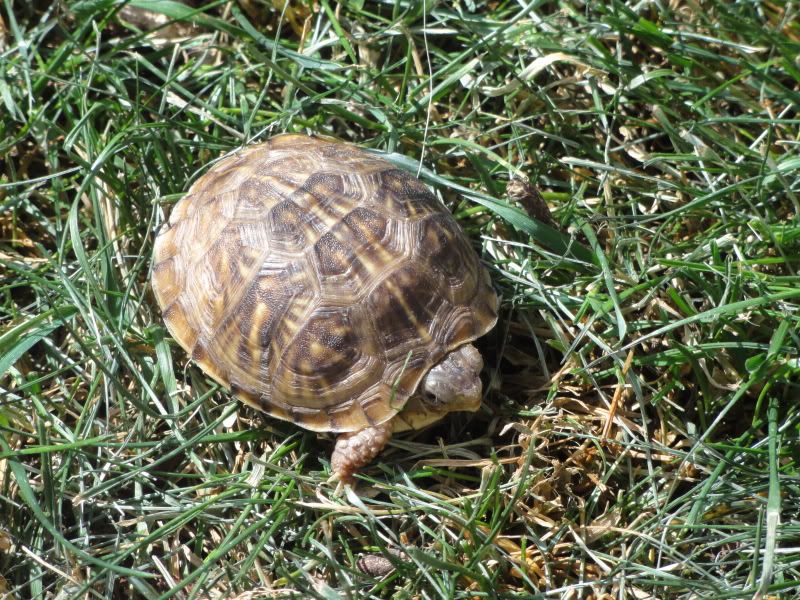 But he evenually found his way over to Vega
I got them all together once more to give them their first meal as a family in a new home.
This isn't their regular feeding area (due to the mulch, don't want any of that accidently ingested!) so it was just a 1-time special occasion meal of plain lettuce =) Their eating area is actually in the grass on some rocks (rocks = good for filing down beaks while eating!)
Here's a cute picture of Tumble hiding under a *coughfakecough* plant
Ahh this pond is much larger than the water dish in Grant's previous indoor home!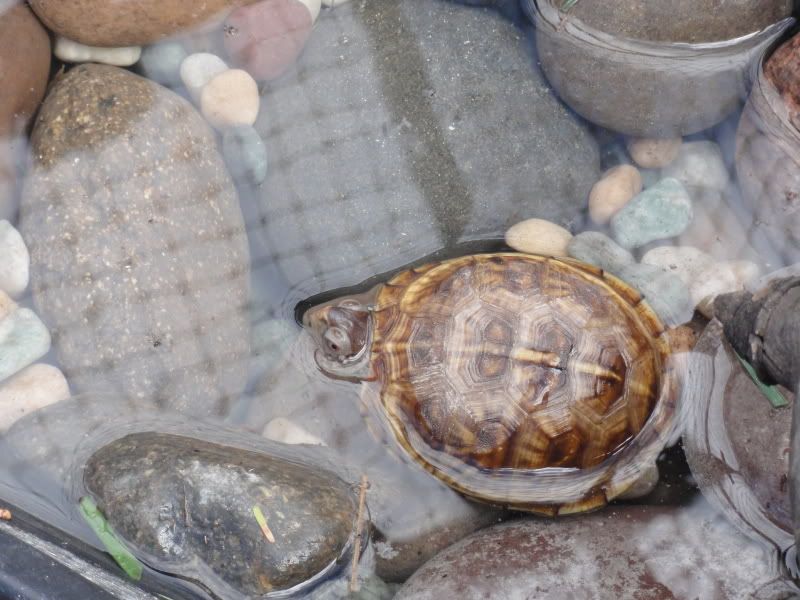 Viva is one of the two that were already outside but in a smaller habitat, she still turns her nose up to fresh foods when I'm watching =p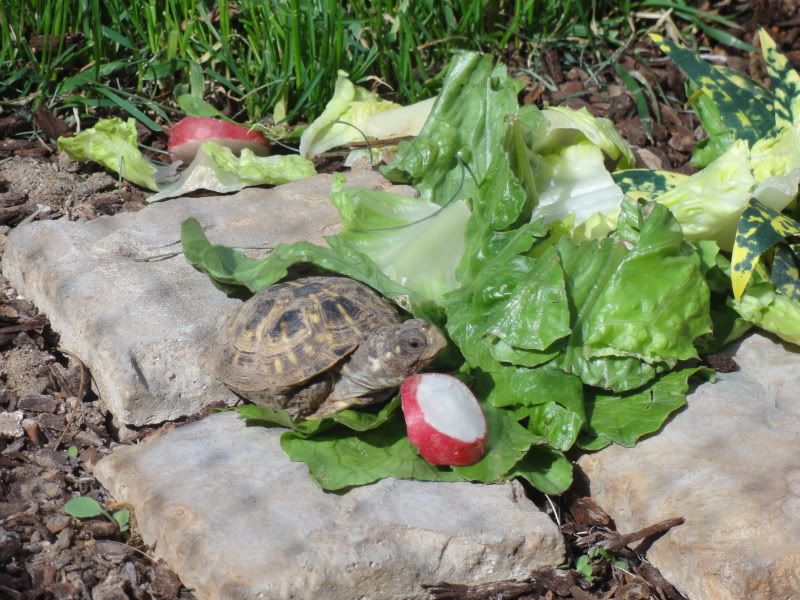 Another picture of the habitat only there's turtles in it this time!
Here's Vega (Also previously outside) enjoying the pond, it's also bigger than his old water dish!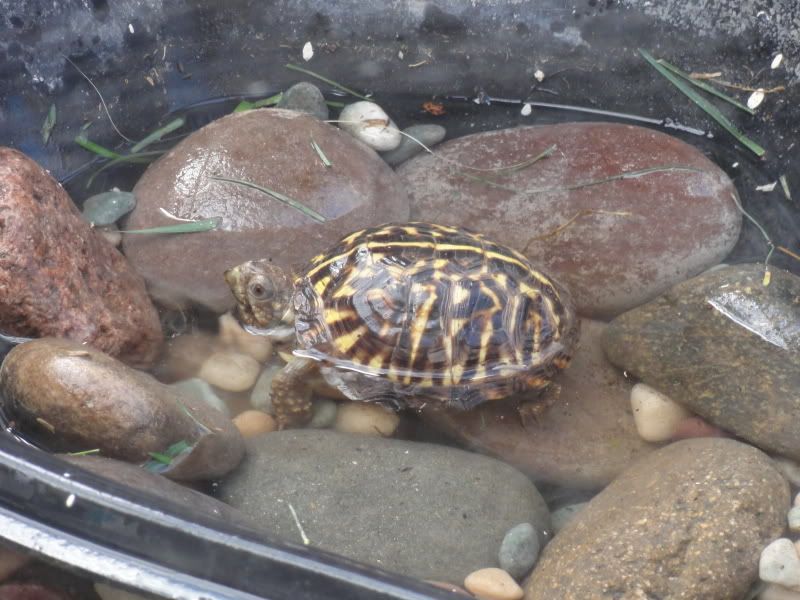 Linda found a good spot under a bush right next to a running sprinkler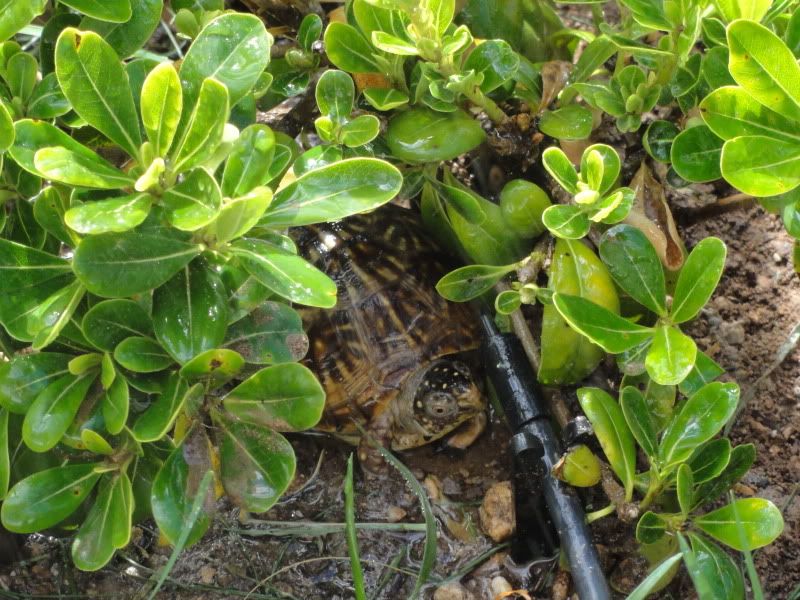 The Before and After!
Before: Weedy has-been garden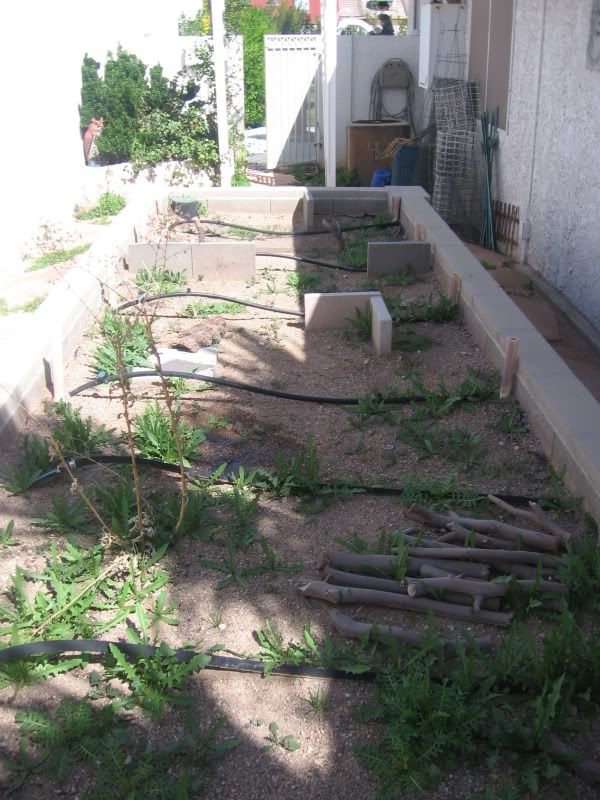 After: Turtle park!
"It's not freedom, but it's close enough!"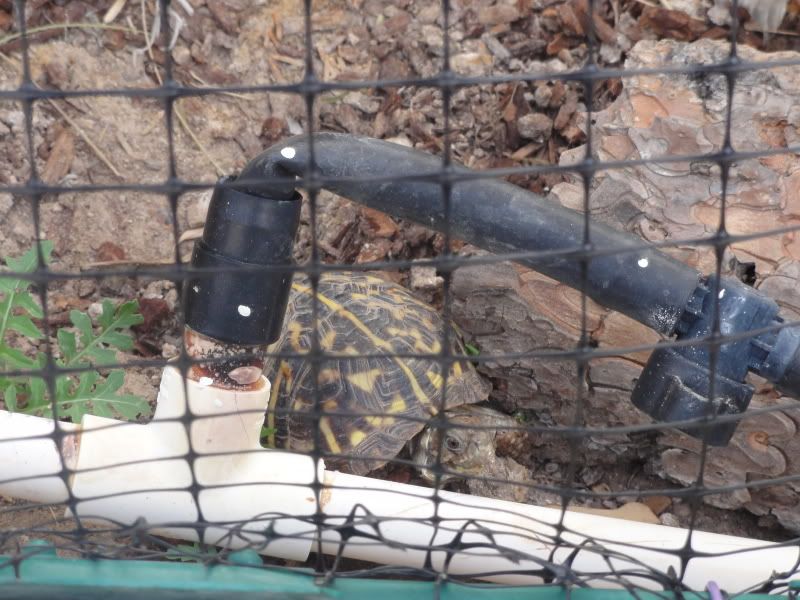 Check out this video I took during their first moments in the new home =)
Edited by SnowCone, 05 April 2011 - 12:20 AM.