Guide To Building a Paludarium Tank For Animals Or Plants
The average person will not know what a Paludarium is. You'll be mistaken for a liar!
Paludariums have a growing fan base among aquarists.
Many aquarium collectors have made the switch to a paludarium or added one to their collection.
This info guide will cover exactly that. We will cover what paludariums are, why they're popular, what can be put inside (there are many options) and how to build one yourself.
We also recommend some tanks and kits.
Let's get started!
In a hurry?
Here's the link to our top pick for the best paludarium tanks you can buy.
It is built well, looks great, and can be used for a variety of different setups. SeaClear is a great manufacturer and we are always impressed by their products.
What is a Paludarium?
Paludariums are a growing trend in the tank/aquarium-keeping community. Aquariums are familiar, but this is a bit different. The Latin word 'Palus' means swamp or marsh, while arium means a specific place.
This habitat is semi-aquatic and can accommodate a wide range of plants and animals, including terrestrial and aquatic species. Semi-aquatic simply means that the tank contains a mix of water and land habitats. Paludariums are able to house a much wider variety of species than other common setups.
Here are some definitions of different types tanks to help you better understand what a Paludarium actually is:
Terrariums : A habitat for species who only live on land.
Vivariums Are any enclosed spaces where animals or plants are kept in conditions that are similar to those in nature. 

It doesn't matter if a tank is called a paludarium or aquarium.

 

It has become more common over the years to call reptile tanks vivariums.

Riparium : A place that is made to look like the edge of the water on a river or lake.
This phrase is used to describe unique setups. We think it is accurate. You might want to use this phrase when you're talking with someone outside the community.
What is the appeal?
Paludariums have become popular because of the combination of elements from all types tanks. The diverse habitat allows for the keeping of more species in one place, which is a great benefit for enthusiasts and hobbyists.
It is fun to watch them. They give off a rainforest-like feel. Paludariums are a great way to create a rich ecosystem in a small tank.
The added options and variety of these environments make them worth the extra maintenance. The amount of effort and time required to maintain them is much lower than a fully aquascaped setup.
Paludarium Tank and Kit Recommendations
Many people tend to overthink the choice of paludarium tanks when they begin planning their build.
When choosing the right tank, you should consider:
The population is the number of people.

You can choose the general layout that you would like to have.

You can choose whether you want to have a waterfall.

You will need a tank that is at least 10 gallons (you may get away with 5, but only if you don't have many animals living in it).
You can use these guidelines to help you choose the right paludarium tank for you.
Here is a recommendation for a paludarium tank to get you started if you don't wish to start shopping from scratch.
Our Favorite Paludarium Tank, the SeaClear 40 gallon Acrylic Tank
We like and recommend this paludarium tank for many reasons.
SeaClear Acrylic Aquarium Combo Set
Combination includes an aquarium, a reflector, and an electrical light fixture

Acrylic tanks are 17 times stronger than glass and half the weight.

The residents will be able to see and hear everything in high clarity.

It is lightweight and portable.
SeaClear's products are of high quality and very durable. In previous buyer guides , we've been singing their praises. We also hear great feedback from customers.
This option is ideal because it can accommodate a lot of plants and inhabitants. If you want to, you can also build a waterfall.
They also offer smaller sizes in their acrylic tanks line, which should be able to meet your needs.
The Best Kit Options
There are some paludariums that include the basic components to help you save time.
The AquaTerrium planter tank by Penn Plax
The kit includes a crystal-clear glass tank, an aquaponic waterfall with pods for planting, a filter and deluxe artificial plants.

Hydroponics: Pump circulates water to cascading waterfall, providing nutrients for plants

High-powered LED plant growth lights help live plants thrive in the ecosystem

Terrarium tank measures 12″ x 13″ x 14″ high
This means that the plant life is already taken care of and you can add any animals you want.
If you have the time, we suggest that you build your paludarium. You will learn more about your paludarium's inhabitants and how to care for them.
OIIBO White 67 Gallon Reptile Terrarium
48″ x 18″ x 18″ Knock Down Tempered Glass Reptile Tank, Sliding Door Reptile Tank
The Terrarium
Knock Down Reptile Tanks are easy to install in just 5 minutes with a screwdriver, saving you time and space. 

The sliding doors and two top lids are easily removable to clean the tank, feed your pets or remove impurities.

Good ventilation Not only does the top screen provide ventilation and allow UV penetration, but also the left and right mesh panels help balance ventilation. 

Wires and tubes are organized using top-closeable inlets.

Watertight Bottom : Waterproof bottom to keep water or substrate moist for reptiles living. Raised bottom frame fits a heater underneath.
Safe & Secure The aluminum alloy frames protect the tempered glasses and edges securely. 

The lid is secured with clip-on bolts to prevent the ball python or snake from knocking it off.

 

The security lock also prevents pets from escaping.

Easy assembly The terrarium tank comes flat-packed for transport and safety. All parts and instructions are included. 

Size: 48″ x18″ x18″ (67 gallon).
OIIBO White Knock Down Glass Terrarium – 67 Gallon for Reptiles
Herpetologists prefer glass terrariums. Glass terrariums are the preferred choice of professional Herpetologists. They are ideal for damp, humid environments and are easy to clean.
These animals regulate their body temperatures by moving around their habitat. They may move from sunlight to shade or underground to burrows. They slow down their metabolism if they become too cool (and if the temperature is too high or low, they go into states of inactivity).
The body functions, such as digestion, are dependent on maintaining the right temperature. In order to ensure that the animal grows and thrives, it is vital to maintain the right temperature.
It is important to note that many reptiles require more than a constant temperature. The temperature range must be a gradient or range from high to low. The animal can then move to a temperature that suits its needs.
| | |
| --- | --- |
| Brand | Oiibo |
| Target Species | Reptile,Amphibious,Tropical,Desert |
| Material | Glass |
| Special Feature | Lightweight, Durable |
| Item Dimensions LxWxH | 48 x 18 x 18 inches |
| Shape | Rectangular |
Animals to Include
Paludariums, with their semi-aquatic habitats, can house a wider variety of plants and animals compared to terrariums or aquariums. The aquatic section of your tank can be enhanced with a variety of species.
Freshwater Fish
Assorted Killifish are popular fishes. Others include mollies and danios. Others prefer to have a variety of fish species in their paludarium ecosystem.
When selecting fish, be sure that they all have the same requirements in terms of water (hardness, temperature and pH).
Shrimp
The appearance of your paludarium can be enhanced by species such as Amano Shrimp , ghost or Amano Shrimp. They also act as a natural cleaner. Shrimp will graze on plant matter, debris and other floating objects in the water. They produce little waste.
Snails/Other
Freshwater Snails are a great way to add some subtle variation in your water if you want something other than fish. Nerite and Mystery snails are popular choices. You can also choose fiddlers or springtails. They will help keep your aquarium cleaner.
Semi-aquatic animals include:
Turtles – The best turtles for this environment are the painted sliders.
Toads and Frogs: The green frog is a popular choice for all developmental stages. 

Another great option is dart frogs.

Salamanders The American Tiger Salamander, a carnivorous species, eats small fish, earthworms, and other meaty food.
The Newt: These are very active animals, which frequently switch between water and land. This makes them interesting to observe in a tank. 

Pacific and Firebellied Newts are popular species.

 

Their diet is similar to that of salamanders and includes small fish, meaty food, and pellet diets.

Mudskippers : This funky little critter is extremely entertaining and will flourish in this type of environment.
Water Dragons: A great choice of reptile that is easy to care for and can look right at home.
Note: Tank keepers love to introduce tadpoles in their tanks. It allows them to grow, and watch their metamorphosis from water to land.
Snakes, lizards, and other terrestrial species can use the land portion of a paludarium if they are able to coexist with aquatic and semi-aquatic animals.
Conflicts between species are the most important consideration when putting animals and plants into your aquarium. Some plants can be toxic to some animals if they eat them.
Some animals might not get along. To avoid unintended casualties, be aware of the relationships between animals when you create your habitat. The water in every paludarium, like that of a regular aquarium must also be cycled.
Plants to Include
Paludariums can be filled with a wide variety of plants, including semi-aquatic and aquatic species. Some tankkeepers prefer the look of their tanks, while others are more interested in function.
Some people choose paludariums that grow slowly to avoid the need for maintenance and pruning. You can choose from a wide variety of plants that will thrive in a tank:
Floating plants thrive in the aquatic section of a paludarium. 

Java Moss is a species that can thrive in water. It can also improve the health and well-being of other species.

 

For shy or nocturnal species of fish that need to hide during the day, floating plants are an excellent choice.

 

Salvinia is also a popular floating fern.

Ferns such as button ferns, Boston ferns, or lemon ferns can grow rapidly and provide dense brush.
Viny Plants such as Devil's Ivy or creeping fig can cover walls in a paludarium to create a natural "curtain", if that is the desired effect. 

Their stems will eventually take root in the water, providing shelter for aquatic creatures. This makes them an excellent semi-aquatic choice.

Bromeliads are a variety of hardy flowering plants which can be used to add color and aesthetics in a fish tank.
Carnivorous Plants, such as Butterworts and bladderworts, are exciting choices that feed on insects/small aquatic creatures and are fascinating to watch. 

You should be careful, though, as they can feed on small fish that aren't intended to be used for food.

Any aquatic plant. 

Paludariums are often filled with Anubias, Cryptocoryne and other aquatic plants.

Orchids are beautiful, but can be difficult to maintain. 

Plant them on the land side of the tank. They have a low tolerance for moisture.

Flowering Plants like crotons and peace lilies or dracaena are some of the plants that can be used to achieve the desired appearance. 

There are many options.

Lucky Bamboo is a popular bamboo that can be grown in water or soil.
Pothos are also a good choice to add some color and texture to your tank.
Additional Option
Some tank keepers use mangroves and semi-aquatic dwarf trees if space is not an issue. Paludariums can be used to grow herbs, vegetables, and even fruit! The tolerance of the plant to water is important.
REPTI ZOO 85 Gallon Reptile Glass Terrarium
48″ x 24″ x 18″ Reptile Detachable Terrarium with Double Hinge Door & Screen Ventilation, 2 in 1 Large Reptile Terrarium
The

Paludarium
2 in 1 Reptile Terrarium[Patent Design].

 

For the left side, we prepare 1 mesh panel and one glass panel.

 

Both the mesh vent panel and the glass panel are easily interchangeable for two different purposes.

 

Mesh vent panels can help to balance moisture and ventilation.

Size of Reptile Tank: RK0226P 48″ x24″ x18″.

 

For added safety, the base is made of thick tempered glass with a high-hardness.

 

The tough screen top allows for ventilation, optimal airflow, and dome lighting.

This tank is waterproof and can be used as a rainforest tank or terrarium.

 

Wires and tubing can be inserted into 6 inlets at the top and on the right. An extra cable pass allows for 4 more wires to pass.

The front doors open independently, making it easy to feed and secure your pet (suitable for ball Pythons).

Step-by-step instructions make it easy to knock down or install in just 5 minutes. IMPORTANT: All glass is upgraded to tempered glass.

 

Do not cut or punch holes in the glass. Otherwise, it may be damaged.
| | |
| --- | --- |
| Brand | REPTI ZOO |
| Target Species | Fish |
| Material | Tempered Glass, Glass |
| Special Feature | Lightweight |
| Shape | Rectangular |
| Style | Modern |
| Color | Black |
| Included Components | Door |
| Product Dimensions | 48″L x 24″W x 18″H |
REPTI ZOO Collapsible 60 Gallon 36" Wide Reptile Tank
The

Paludarium

(Patented Design Collapsible Reptile Terrarium )This easy folding 36″ wide terrarium with patented design is simple to assemble and use. The base and side panels are folded together. In 3 minutes you can install the front and side doors, the side glass, and the top lid.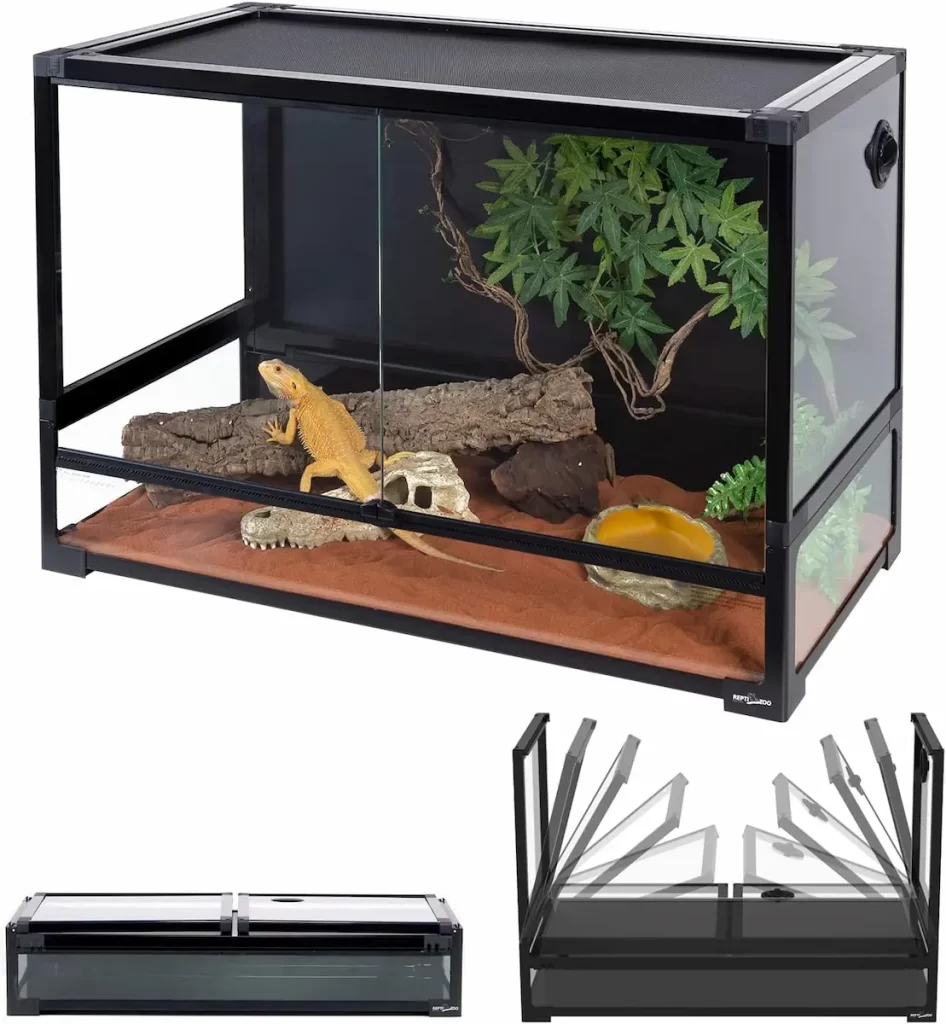 Tempered Glass Large Reptile Terrarium 36″x18″x24″, Black PVC Back, Front & Top Ventilation & Anti Escape Lid, Easy Folding.
[Stress Relief Bio Terrarium]Considering reptile pets' living habits, the specially-designed black-out PVC backing helps reduce stress. 

Front ventilation strips are good for dredging airflow and balancing temperature and humidity.

[(One Hand Opening Doors)]Save two hands by opening the front doors with one hand. The doors are also detachable to allow for easy maintenance and feeding. 

Side glasses and the top lid can also be easily disassembled for cleaning and decoration.

 

The top lid can be opened easily with the adjustable hinge. It does not need to be removed completely.

[Good Ventilation and Wire Management]Tough Screen Top provides good ventilation, and allows UVB and Infrared Penetration. 

The top lid has inlets for wires, tubing, and an additional cable pass. This allows 4 wires to pass through.

[Tempered Glass and Aluminum Frame]High-quality tempered glass base and aluminum alloy frames ensure that this reptile tank is sturdy and secure. 

Raised bottom by 0.5In to accommodate a substrate heater. Waterproof bottom is suitable for desert terrariums or rainforest tanks.

[Anti Escape]Security Buckle on the Lid ensures the tank is closed tightly and prevents your reptile amphibian or chameleon pet from escaping. 

The security lock prevents your children from opening the door accidentally.

[(After Sale Service)]Easy installation or knock down in 5 minutes, with step-by-step instructions. Our glass terrariums come carefully packaged inside a heavy cardboard box and reinforced foam to ensure safe transportation. 

If you have any queries when receiving your order, feel free to contact our customer service.

 

We offer a free replacement service for damaged parts.
| | |
| --- | --- |
| Brand | REPTI ZOO |
| Target Species | Reptiles |
| Material | Glass |
| Special Feature | Collapsible |
| Item Dimensions LxWxH | 36 x 18 x 24 inches |
| Shape | Rectangular |
| Specific Uses For Product | Reptile amphibians feeding, Snake tortoise tank, Reptile amphibians breeding, Chameleon tank, Bearded dragon tank |
| Style | Indusrial |
| Color | Black |
| Included Components | Instruction |
The Building & Setup Process
It's easiest to build your paludarium in stages, especially if it's for a beginner.
Beginner tank keepers usually start with a small aquarium, about five gallons. They then increase the size as they become more comfortable. For optimal viewing, most people use a standard glass aquarium.
All materials used must be aquarium safe. You can make the construction process easier by following these steps:
1.

 

Initial Planning
Plan the location of the land and water areas in your paludarium. The terrain should be added first and then the water. A watertight seal is one of the most essential elements for a healthy tank. The species that are placed later will thrive if you prevent flooding.
Plexiglass, or any other material that is watertight and safe for aquariums can be used. Sealing with silicone will prevent leaks. After laying out these two areas, you can begin building your land area.
2.

 

Build the Land Portion
You can construct the land using a variety of materials, including wood, sand and rocks. You can use pots or bowls upside down to raise the terrain. It is important to consider what can be difficult to clean and what will collect debris.
Foam sealant is a great way to hold things together. It can also be shaped into any shape you desire. It is essential that the land portion has a bottom drain to prevent flooding in case the water level rises too high.
3.

 

Substrate and Plants
Add the soil/other substrates, and the plants. Consider which plants can tolerate being close to the water. You can also add the top layer (the canopy). The shelter can be made of branches, rocks, or hanging plants.
4.

 

Set up the Water Area
Add the water last. It will maintain humidity, and it should include all of the features you would expect in a normal aquarium (filtering, correct water conditions, etc.). Others use submersible filters, while some rely on only plants to filter the water. Before adding animals, the water MUST be cycled.
5.

 

A Between Area
It is a good idea for the animals to be able to swim around the water, without being completely submerged. A floating shelf can help achieve this. Cork, driftwood or PVC are common materials.
On the floating shelf, moss can be added as a food/substrate to the animals. Peat can be added to shallow water areas to create a bog like environment for semi-aquatic plant life.
6.

 

Installing a Waterfall Optionally
Waterfalls are a common feature in paludariums. It is not essential, but it can add a nice touch to the tank's appearance. You can use a filter for moving the water and an elevated surface such as rocks or wood to allow the water to flow.
After the water has been cycled, it is now ready to receive new animals and inhabitants.
7.

 

Enjoy Yourself!
Enjoy watching your ecosystem take shape!
8. Get To It!
If you are looking to try something new, a paludarium is a rewarding and unique experience. They can create a unique atmosphere and add variety to any room.
Many new owners think that building one is difficult (since they are used to environments with 100% water), but this is not the case.
You'll do fine if you stick to the basics.
We can't help but be excited about the innovations and unique setups that are sure to come in the future.
We would love to see your build or setup. You might want to post it on our website!